Do we really need to celebrate Christmas day on every 25th day of December as the world celebrates? What is the real reason why we celebrate?
We don't have to celebrate as the world celebrates on the same day as that day is just made by mankind.
No one knows when but we know for sure that God became flesh and we should celebrate it everyday in our life because we know that Jesus was born and He is victorious. Jesus is the real reason and we don't just celebrate it for a day or a month but we should do it everyday as He dwells in us.
Our Lord and Savior Jesus Christ was born.
John 1:14 And the Word was made flesh, and dwelt among us, (and we beheld his glory, the glory as of the only begotten of the Father,) full of grace and truth.
He came down here on earth because of His great love to us and just for us to be saved.
If God will come as He is, all will be consumed.
1 Kings 8:27 But will God indeed dwell on the earth? behold, the heaven and heaven of heavens cannot contain thee; how much less this house that I have builded?
How amazing our God is.
John 21:25 And there are also many other things which Jesus did, the which, if they should be written every one, I suppose that even the world itself could not contain the books that should be written. Amen.
Who is Jesus?
He is the lamb – John 1:29
The ladder. He is the only way to heaven – John 1:51
The temple – John 2:19-22
The brass – Number 21:4-9; John 3:13-15
The Manna – John 6:31-35
He is God – John 1:1
Why Jesus came?
We are the reason.
He came to save us because we are all sinners.
John 1:10-11 He was in the world, and the world was made by him, and the world knew him not. He came unto his own, and his own received him not.
Romans 5:12 Wherefore, as by one man sin entered into the world, and death by sin; and so death passed upon all men, for that all have sinned:
Isaiah 64:6 But we are all as an unclean thing, and all our righteousnesses are as filthy rags; and we all do fade as a leaf; and our iniquities, like the wind, have taken us away.
Romans 3:10 As it is written, There is none righteous, no, not one:
Romans 3:23 For all have sinned, and come short of the glory of God;
Romans 6:23 For the wages of sin is death; but the gift of God is eternal life through Jesus Christ our Lord.
Jesus is God and He became flesh.
1 Timothy 3:16 And without controversy great is the mystery of godliness: God was manifest in the flesh, justified in the Spirit, seen of angels, preached unto the Gentiles, believed on in the world, received up into glory.
Jesus came down because of His love to us. He gave His life just for us to be saved and to have an eternal life in heaven. We have been justified because of His love.
2 Corinthians 5:21 For he hath made him to be sin for us, who knew no sin; that we might be made the righteousness of God in him.
Romans 5:8 But God commendeth his love toward us, in that, while we were yet sinners, Christ died for us.
John 3:16 For God so loved the world, that he gave his only begotten Son, that whosoever believeth in him should not perish, but have everlasting life.
He is the reason.
He wants us to live like how He live. We should be sanctified because He is the reason why we live. The words that we say and the actions that we do should be shown through Him. If we truly accepted the Lord Jesus Christ, we should be separated, carry the cross and live with it daily.
Galatians 2:20 I am crucified with Christ: nevertheless I live; yet not I, but Christ liveth in me: and the life which I now live in the flesh I live by the faith of the Son of God, who loved me, and gave himself for me.
Hebrews 10:10 By the which will we are sanctified through the offering of the body of Jesus Christ once for all.
Hebrews 10:14 For by one offering he hath perfected for ever them that are sanctified.
1 Corinthians 1:2 Unto the church of God which is at Corinth, to them that are sanctified in Christ Jesus, called to be saints, with all that in every place call upon the name of Jesus Christ our Lord, both theirs and ours:
1 Corinthians 1:30 But of him are ye in Christ Jesus, who of God is made unto us wisdom, and righteousness, and sanctification, and redemption:
Romans 8:29 For whom he did foreknow, he also did predestinate to be conformed to the image of his Son, that he might be the firstborn among many brethren.
Galatians 4:19 My little children, of whom I travail in birth again until Christ be formed in you,
We supposed to be conformed with the Lord Jesus Christ, the life that we live if we are truly a genuine Christian. 
Is Jesus your reason? What can you render?
1 Peter 3:18 For Christ also hath once suffered for sins, the just for the unjust, that he might bring us to God, being put to death in the flesh, but quickened by the Spirit:
Thanks God once again for this great reminder that we need to live by your image and we don't need a specific day just to remember that you were born but we should walk with you everyday as we continually run our race and endure our daily bottles while we are living here on earth. Help us Father, give us strength and wisdom for us to endure our daily bottles. Separate us and sanctify us so that you maybe seen in us and that you will be glorified in our life. Forgive us for all our shortcomings, in Jesus name we pray, Amen.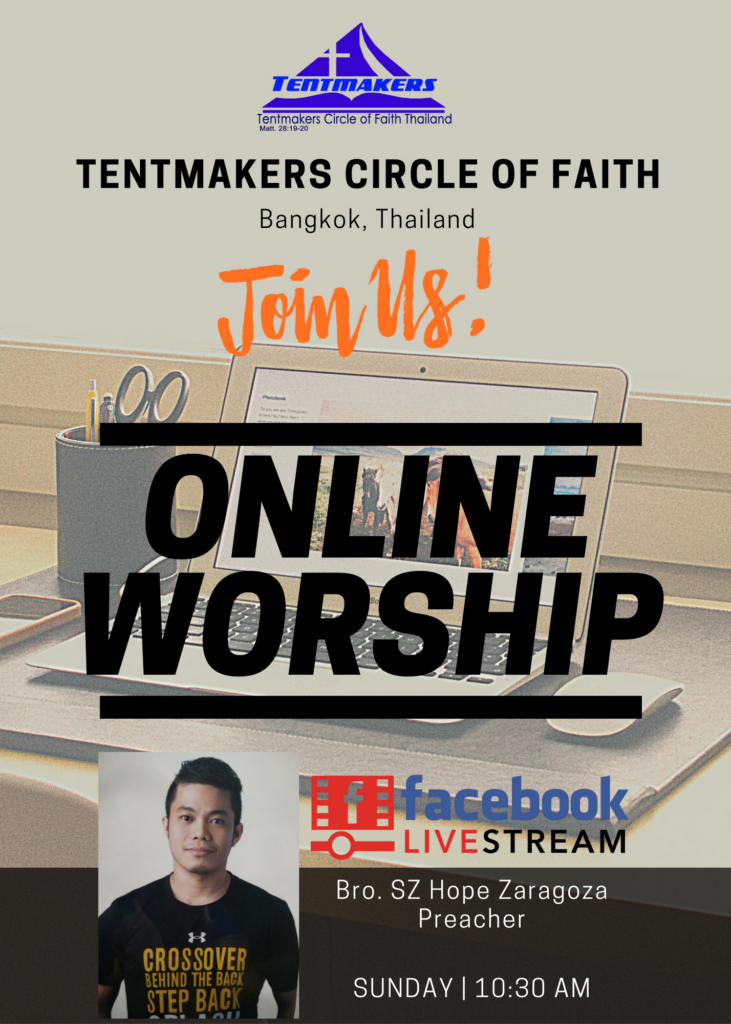 TentMakers Circle of Faith
Preached by: Bro. Sz Hope Zaragoza