Do you truly believe and are you ready for the coming of Christ?
Ready or not it will come…
Read: Matthew 24:34-42
As we roam around, we may see a lot of people claiming that they are Christians in the streets, in their work, and even in church but their lifestyle shows not.
Our life as Christian and as we live here on earth, we must continue to work out our faith, exercise our faith daily and we have to be true with our God.
True Christians do not enjoy the things of the world but rather endure it as our life is a living witness for those who are lost.
Continue to show ourselves approved in the sight of the Lord until He come. As it is written Hebrews 9:27 "And as it is appointed unto men once to die, but after this the judgment:" Are you ready when that time comes?
We don't know when is His second coming and while you still have time, surrender your life to God and be true to your faith.
Don't just assume that you are a Christian. Be sure of your salvation, be sure of your personal relationship through Jesus Christ our Lord and personal savior. No one can save you in the end even your family cannot save you, it is personal.
Are you willing to be left behind? Be sure of your faith, walk boldly. Don't wait for that time!
Matthew 24:42 watch therefore: for ye know not what hour your Lord doth come.
Be alarmed as there are two kinds of Christians.
A genuine Christian has assurance of salvation. Romans 8:1 "There is therefore now no condemnation to them which are in Christ Jesus, who walk not after the flesh, but after the Spirit."
True Christians have eternal security because he/she truly accepted Christ as his/her personal Lord and savior.
Titus 3:7 "That being justified by his grace, we should be made heirs according to the hope of eternal life."
Acts 3:19 "Repent ye therefore, and be converted, that your sins may be blotted out, when the times of refreshing shall come from the presence of the Lord."
1 John 1:9 "If we confess our sins, he is faithful and just to forgive us our sins, and to cleanse us from all unrighteousness."
Therefore, repent to the Lord and be true to it. Endure your life and take up your cross daily. Luke 9:23 "And he said to them all, If any man will come after me, let him deny himself, and take up his cross daily, and follow me."
ASSUMING CHRISTIAN
A fake Christian is assuming his salvation. 1 John 2:15 "Love not the world, neither the things that are in the world. If any man love the world, the love of the Father is not in him."
If you are not truly saved, God is not working in your life because you are not His son. Luke 6:46 "And why call ye me, Lord, Lord, and do not the things which I say?"
Assuming Christian have eternal uncertainty because he/she certainly did not accept Christ truly as their personal Lord and savior.
Matthew 7:21 "Not every one that saith unto me, Lord, Lord, shall enter into the kingdom of heaven; but he that doeth the will of my Father which is in heaven."
Revelation 20:15 and whosoever was not found written in the book of life was cast into the lake of fire.
What a shame to assuming Christians, it is not a reality now but soon it will be yours. Don't be ashamed to accept that you don't have accepted Jesus Christ yet in your life but be ashamed if you are just pretending.
Be honest! Don't just accept the Lord Jesus Christ because of your emotion or because of what others says.
Romans 3:20 therefore by the deeds of the law there shall no flesh be justified in his sight: for by the law is the knowledge of sin.
A true Christian have the dealing of the Holy Spirit, leading of the Holy Spirit and the fruits of the Holy Spirit. You cannot have two life, being Christian on Sunday or inside the Church while different outside the church. Or Christian on the outside but devil in the inside. God is watching.
What to do?
Go back to the basic: seek the truth, show that you're truly believe and follow what He says. Depart from all your evil works, be true to your faith, stop pretending and endure until the end.
God wants to see our fruits, showing that you are growing through His name. Glorify God in your life now and don't wait for the appointed time. It is your personal choice, Heaven or Hell?
The bible is very clear that a genuine Christians will be taken to heaven and a fake Christians will be left behind. We one knows when, be ready. Don't get caught up diving in sins but be caught up faithful and true genuine Christians.
Examine your faith and accept truly the Lord Jesus Christ as your Lord and personal savior. Change your life now as you have a new life as "Christian", serve the Lord, surrender your life and glorify God in your life.
How to show our faith, work out our faith and that we are truly believe in God?
Surrender your life in Him, forget your old man, walk continually with Him and be involved in the ministry.
This is a challenge to any of us Christians:
Continue to be steadfast, unmovable, be strong in the Lord continue until the end. And as we continually run the race, seek the truth, die to yourself and live for Christ.
Psalms 1:1 "Blessed is the man that walketh not in the counsel of the ungodly, nor standeth in the way of sinners, nor sitteth in the seat of the scornful."
Philippians 1:6 "Being confident of this very thing, that he which hath begun a good work in you will perform it until the day of Jesus Christ:"
While we wait for the coming of our Lord, be prepared and make sure that we are the one taken to heaven and not the one who will be left behind.
So ask yourself "Are you sure of your salvation?" God sees our heart.
Matthew 24:44 therefore be ye also ready: for in such an hour as ye think not the Son of man cometh.
Be sure because ready or not it will happen. Be found genuine Christian and not an assuming Christian. You may have the world today but these are all temporary.
Matthew 24:42 watch therefore: for ye know not what hour your Lord doth come.
Be sure to be taken and not to be left behind.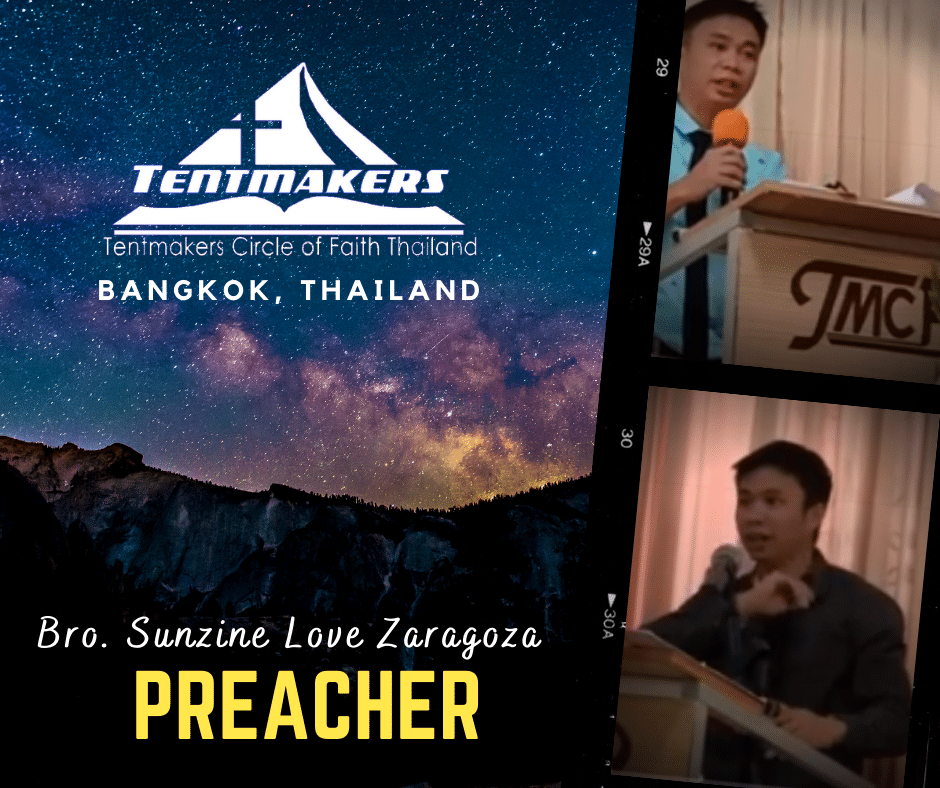 TentMakers Circle of Faith Thailand
Preached by: Bro. Sunzine Love Zaragoza